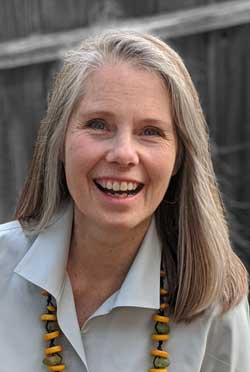 Meet the Member! This blog is one in a series of posts dedicated to learning a little more about one of our PWBC members.
Julie Parker is a designer who is passionate about creating beautiful baby blankets and sleepwear that respect our environment and the people who make them. She feels that it's very important to take care of our planet because our kids are growing up in it.. We teach them how to live in the world by practicing what we preach. She is working hard to get closer to her ideal of a completely eco-friendly supply chain that is 100% labor friendly.

Julie earned her degree in Fashion Design from the Fashion Institute of Design, Los Angeles. She has worked in several capacities in the industry, from design assistant to patternmaker to designer. She recently combined several of her passions: her excitement for art and design, her love of babies, her concern for ecological and labor business practices and her fashion industry knowledge to create Blue Okra, an ethical baby blanket and sleepwear company.

Currently, she has unbleached, undyed organic cotton blankets and sleepwear that are 100% USA made. The organic cotton is grown in Texas. Fabrics are made in the Carolinas and Pennsylvania. The products are sewn in California. Even her tags and packaging are eco friendly and made in California. She is currently working on new colors and prints that are being made in Thailand. Of course, they are made in a lovely fair trade shop and will be available soon!

Before they chose their fair trade sewing shop, she and her co-founder (husband John), visited them in Chiang Mai to learn more about how they run their ethical business. They were very impressed with the great working conditions – ergonomic chairs, flexible work hours, pay that is well above a living wage in their city. Everything from the open and pleasant working environment to how hard they work toward zero waste was impressive. Also, they provide medical and dental care. In addition, the sewing shop gives spare fabric to women in their community. This allows them to use the sewing machines so they can make things to sell in the local market.

Julie has been a member of PWBC for nearly 2 years and has really enjoyed getting to know other members. She has seen their hard work and dedication to their businesses and has learned a great deal from them.

Julie also enjoys gardening, cooking and is a competitive rower. She and John recently moved to Napa. Once Covid is under control they will enjoy getting together with friends and family from all over the San Francisco Bay Area.