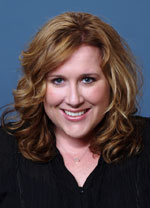 Meet the Member! This blog is one in a series of posts dedicated to learning a little more about one of our PWBC members.
Dr. Nicole Watson is a chiropractor and has been a member of the PWBC for over 9 years. As a Chiropractic Physician, she works to help patients manage the daily physical, emotional and chemical stressors through the power of the chiropractic adjustment.
Dr. Nicole is a 4th generation San Francisco native. She was certified in massage therapy for 8 years and ran her own private massage practice before earning her Chiropractic Doctorate at Life West College of Chiropractic in Hayward, California in 2005. She purchased Belmont Advanced Chiropractic in early 2008. Dr. Watson has been involved in chiropractic care for many years, having first started her journey at the age of 16 when she worked in Belmont. She was in awe of all the health benefits she saw with folks under chiropractic care and wanted to be a part of such an amazing profession. She has a special knack with treating the geriatric community and did a segment on geriatric chiropractic on KRON4, a local news station where she explained how beneficial chiropractic care is for any age. Dr. Nicole is trained in over 6 techniques, which allows her to be able to safely take care of any generation. She is currently working on completing a post graduate certification with the ICPA (International Chiropractic Pediatric Association) and is ICPA Webster Certified to treat pre- and post-natal mothers, infants and children. Dr. Nicole loves taking care of folks of all ages and educating those who will listen about the amazing benefits of appropriate chiropractic care.
When not performing thousands of adjustments per year, Dr. Nicole can be found off roading and RV'ing with her husband of over 17 years and friends, having fun with her 6 nieces and nephews, cooking and learning to play the ukulele. She loves to work, sing, and practice Yoga.
Learn more about Dr. Nicole and the benefits of chiropractic care on her website www.adjustedforhealth.com. Sign up for her monthly newsletter to receive helpful tips and education related to chiropractic care and your overall health.