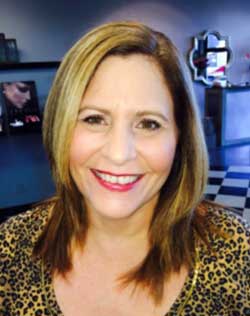 Meet the Member! This blog is one in a series of posts dedicated to learning a little more about one of our PWBC members.

Adrienne Fink is a wellness advocate with "doTerra" essential oils. doTerra translates to "the gift of the earth". She is seriously committed to finding the perfect essential oil that can bring relief to many ailments from which we suffer, one drop at a time. Adrienne understands first-hand that in order to reduce the toxic load in our environment, we must move away from the pharmaceutical overload that we so often rely on. The enormous variety of essential oils and products that doTerra provides means that we can find precisely the right formula for short and long-term relief.
Adrienne also enjoys providing the topical applications of AromaTouch Technique, (which help relieve stress, supports your immune system, reduces inflammation and brings the body to a homeostasis balance), as well as the Symphony of the Cells protocols (the application of 10 various oils to create a synergistic effect to the various body systems). These services are provided by appointment only to clients that reach out to her directly.

Adrienne is a proud California native. She is kind and energetic, and her favorite companion is her loyal dog, who goes anywhere and everywhere with her. Her commitment to health and wellness extends into her own life, as she is herself a consistent consumer of doTerra products, and a true believer in overall fitness and physical health. She is a proud mom to two grown sons.
For more information about how doTerra natural oils and products can change your life, reach out to Adrienne at 650-302-3899. She is more than happy to share her personal experiences and knowledge about how essential oils can improve your life. She can also be reached by emailing her at adriennefink@sbcglobal.net