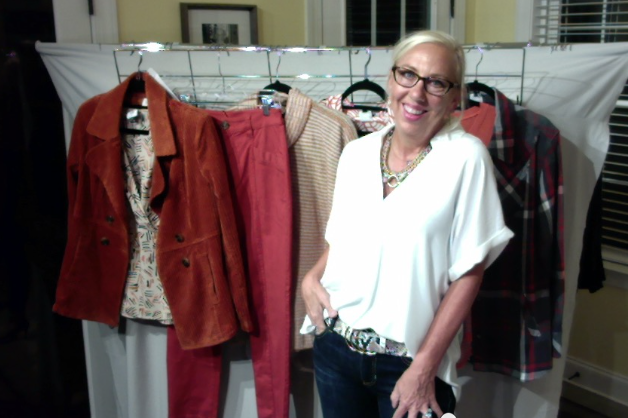 For a recent presentation to our Connections group, PWBC Member Catherine Miller offered her savvy advice for dressing ourselves this season, and beyond.
Catherine reminds us: Clothes can change lives. How we dress affects the way that we act and interact with others. Our dress and outward appearance affects how others respond to us and most importantly, how we feel about ourselves. As a Cabi clothing consultant she has seen how lives can change with a new look. She loves working with women as they work to feel and look their very best. And she guarantees that it doesn't have to mean starting from scratch or spending a fortune.
A few of her most valuable tips include:
Steering clear of things in our wardrobe that can only be worn one way or in one location. She tells us "No One Hit Wonders!" If an item is not versatile and you can't see wearing it beyond the one event that you have purchased it for, don't buy it. It does not enhance your wardrobe to have a collection of pieces that are nice but isolated. Being able to mix and match for all areas of your life and sorts of occasions and events is the key to a functional wardrobe.
When it comes to Zoom looks – stand out! Don't wash yourself out in your background by wearing muted colors or no color at all. Brighter colors pop and make your presence known, ensuring you will be seen and heard. V-necks are universally attractive and flattering for all sizes and shapes. Accessorise and be sure to keep a tube of lipstick or gloss at your desk so that you can complete your look before you turn your camera on. It is quite easy to take your look from average to extraordinary with a little color – in your clothing and on your face.
Focus on layering, which is a great way to add interest to your look and be prepared to take it from day to evening without a fuss. Consider layering with 2 different colors, which is pretty standard. If you are interested in using a print, be sure to have something more basic with which to pair it so it doesn't draw attention in the wrong way. Watch your fabrics and mix them thoughtfully so as not to have too heavy a look. And always be mindful of your proportions, balancing out the top and the bottom. Remember that everything you throw on can't be bulky and loose and still look great.
As for fall trends, printed leggings are a great addition to your wardrobe. Have fun with them. Items in this year's Cabi collection, as always, go easily from day to night without taking a break. Catherine talked about fabrics to enjoy this season that include parachute polyester and soft corduroy, just to name a few. And accessories that are trendy now include heavy, gun-metal menswear inspired items that are bold and unique.
Catherine Miller is a cabi stylist and a style and fashion expert. Find out more about her and what cabi can do for your wardrobe at http://www.catherinemiller.cabionline.com/. Catherine's Closet Confidential service is for those looking to update and upgrade their closet with her individualized support and expertise.