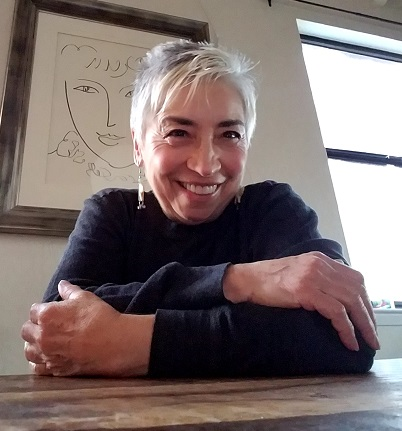 Knowing how to take care of your body, how to obtain and maintain fitness and health, should be something everyone should know. Since that's not the case, I have set out to teach people, particularly middle age and older adults, how to do just that so that they can enjoy an active, healthy lifestyle so they can do the activities they love to do in a body they can do them well in.
I'm one of those life-long learners.  I particularly dwell in the arena of food, nutrition, how to personally effect your body's health.  It all fascinates me, and I love sharing it, from how to grow your own food, to identifying and use culinary herbs; how to source your foods and how to cook food in ways that absorb the largest amounts of nutrients.  It's interesting, fun and all a part of what keeps us healthy and vibrant.
I've been training adults in fitness and health for more than 4 decades.  I take my work seriously but have a lot of fun doing it. It's particularly a joy to guide clients toward what I call "Practicing Euphoria". This is the liberating and empowering magic we feel when we move our bodies and minds together in a series of movements and patterns.  Perhaps, at some point, I can look forward to practicing it with you.
Watching clients work on a movement and then, one day, they achieve it.  It delights us both!  And it's the best motivation to continue perfecting the fundamentals with each more challenging move.  I have to say, it gives me goosebumps and sometimes I even do a momentary happy cry when they achieve something we've been working on for a while.
I work with middle-aged and older, busy adults whose schedules keep them from achieving the level of health and fitness they desire.  I have three-prong approach that teaches people how to better understand their bodies from a more holistic approach.  Closely examining their whole-body movement pattern, we can identify imbalances and compensations.  We then look at how they are fueling and nourishing the body for its systems to be able to harmonize well.  And third, we learn and apply methods of recovery, building as we relax and healing to create more.
My primary focus is to provide tools, techniques and information that inform and enables clients to work confidentially and more successfully with life's transitions, to recognize the beauty of strength and to ultimately have a sustainable, healthy, and active lifestyle that allows them to feel good, move well and look good.
As an older, active adult who through the years has had a number of injuries, it is through my own experience that I recognize the possibilities and the rewards of a sustainable healthy lifestyle.  My students benefit from the many years of study and experience I have tallied up.
My clients can rely on me as a resource for them as I answer their questions and provide options they perhaps hadn't considered.  It also allows me to work closely with them and their healthcare providers to resolve issues that may come up.  This gives my clients a great base of support, relieves some of the stress and saves them time.  They move forward confidently and efficiently.
No matter how locomotion is accomplished, or the maintenance of the body's beautiful, intricate systems dancing harmoniously together, it requires intention and attention, making space to put your mind towards that which we value most, good health.
People often ask me what's my motivation to be doing the work I do for so many years. My answer is always the same. I know everyone wants to be healthy and wants to be fit. So, I teach the skills, the drive and the appreciation of beauty in strength. People are able to gather up the know-how to be able to move about meeting the demands of their environment while creating memorable experiences throughout their lifetime.
Through the years, I danced, jogged, hiked, practiced Kung Fu, Judo, taught Aerobics and did a little swimming.  I continue to be active lifting weights, practicing yoga, walking, and teaching.   I'm excited to get back into my garden again.
I loved then and still love learning and experiencing those things that offer an opportunity for fun, expansiveness, and growth, both physically and mentally.  I continue to study, adding to my college degrees and certifications. In addition, I'm writing a book having fun with the grands, and, yes, still teaching.