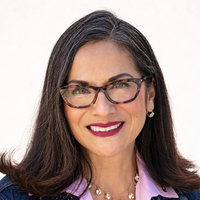 Gloria Guzman is a representative of Club Seacret, a travel membership with world class benefits. Club Seacret will whisk you away from the everyday … and make every day special. Gloria is the Director of FUN and she has your passport to the good life! A Club Seacret membership allows so many different travel planning options, and opens up new vistas and experiences you never knew you were missing!

Gloria is not a travel agent but she can coordinate and inspire, and the Club Seacret booking engine can get you some unheard of deals just about anywhere and just about anything. For example, Gloria was attending a friend's event near Gilroy, California. She used the Club Seacret booking engine and got $40 savings on a hotel in Gilroy (a lovely town but not exactly tourist central!). The Club Seacret booking engine allows you to customize your own trips, including travel to and at the destination, hotel, and excursions, and realize and maximize savings in each of these areas. Club Seacret also has curated trips, planned for specific destinations and times.
Club Seacret membership pays for itself if you are someone who travels a lot. The membership benefits extend far beyond the usual travel and vacation savings to broadway shows, restaurants including Doordash and Postmate, movies, theme parks, and clothing and accessory stores … even telemedicine and health procedures. Club Seacret membership has something for everyone!
Contact Gloria at Gloria@lifestylecreators4u.com or 415-760-8202 to learn more about Club Seacret.
Club Seacret website: https://www.seacretdirect.com/www/en/us/clubsea